With a history of award-winning projects, Advantaged Care were pleased to bring online in 2017 another new aged care residence that establishes a new benchmark of aged care in the Liverpool LGA.
With a clear objective of exceeding present aged care standards, Advantaged Care Prestons Lodge offers an array of different service offerings, from luxurious extra services though to fully financially assisted places. You will enjoy the excellence.
At this location we offer:
High Care
Low Care
Dementia Care (secure)
Respite Care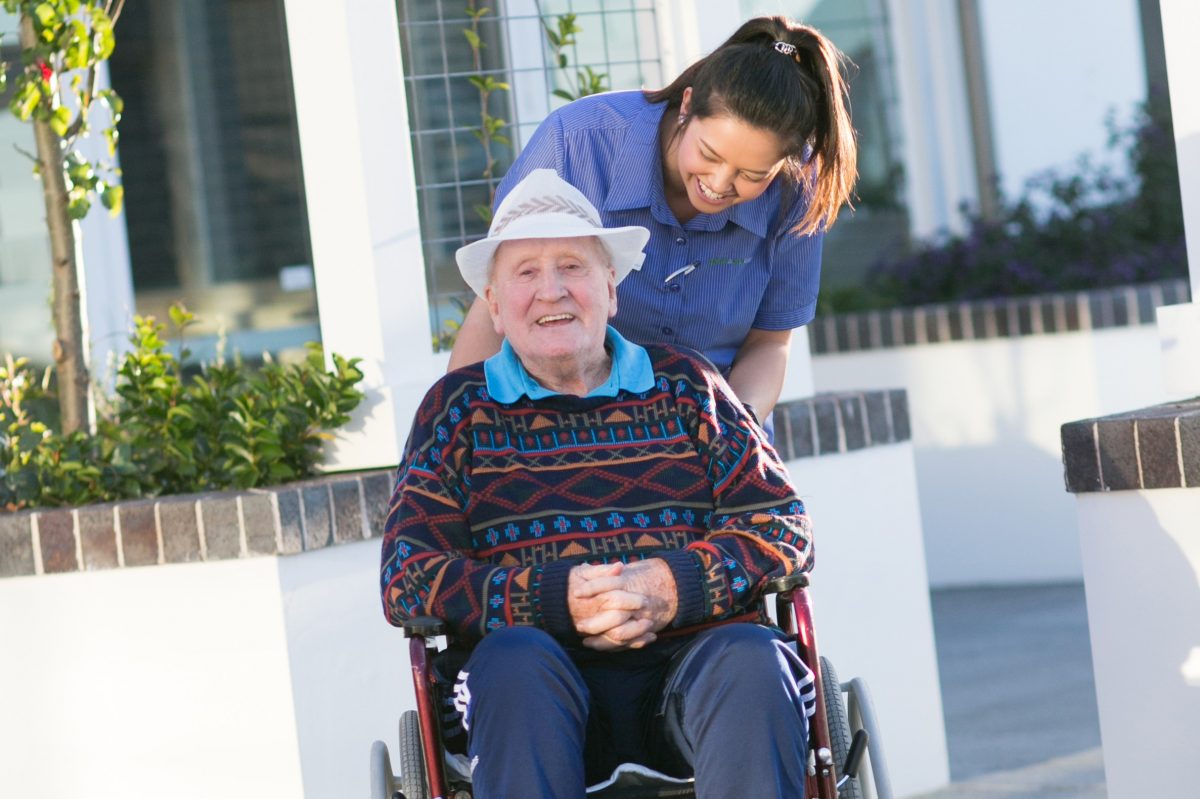 We believe that quality of life is not just about living, but living well.
We often hear that the biggest concern with moving into residential care is thoughts of losing one's sense of identity. Our wholistic care model focuses on choice and all of the individual's needs.
Our Clinical Advantage™. We have Registered Nurses on-site 24/7, IT systems supporting highest standards in clinical care and medication management, ongoing clinical audits, on-site physiotherapy, weekly strategic clinical care meetings, real-time dynamic care planning, partnerships with local hospitals and an underlying philosophy of continuous improvement.
Whether you're living at home or in residential care, we know good food is essential to happiness and well-being.
That's why all of our residences have high quality commercial kitchens on-site, where all meals are freshly prepared by our professional Chefs.
We know choice is also important and we offer a range of hot and cold meal options daily.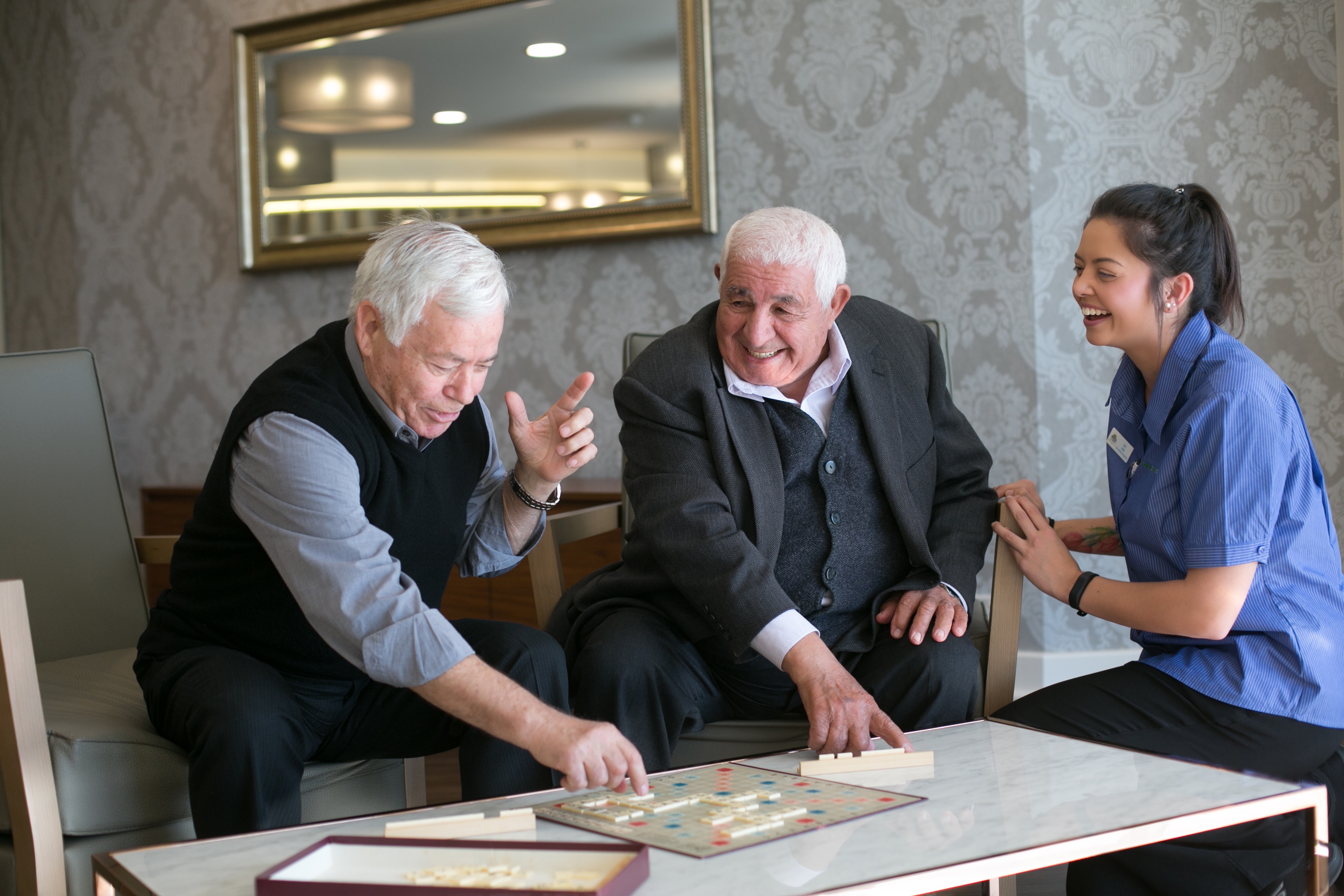 Our Lifestyle and Therapy approach is diverse and extensive. Dedicated lifestyle and therapy teams provide unique options for socialising, entertainment and exercise.
The variety of activities range from interacting with a variety of animals including feathered friends, concerts to cooking classes, bingo to high tea as well as cultural events, happy hour, BBQ's, bus trips, and birthday parties.
Our extensive therapies program ranges from physiotherapy, art therapy, aromatherapy, and exercises including massage, tai chi, balance, and others.
In fact at Advantaged Care, there's so much freedom and choice, you might just think you're on a cruise ship.
Design
The design philosophy of this residence is to bring the outside in. Incorporated into this are innovative winter gardens, extensive landscaped areas, an alfresco cafe break away, and a focus on the northerly aspect. Set in a quiet neighbourhood cul-de-sac, adjacent to a bike and pedestrian track, resident engagement with the community is achieved by immersing with one's surroundings, promoting connectivity and wellness.
Advantaged Care Prestons Lodge is a contemporary residence with attention to detail in architecture, interior design and landscaping. Our residents enjoy a comfortable environment in homelike furnishings, surrounded by elegant accessories and artwork.
Prestons Lodge offers top-quality accommodation for financially supported residents as well as pristine luxury for those seeking a full hotel-style offering. It also provides attractive, light-filled spaces for residents who require secure, dementia-specific care.
Standard inclusions:
Reverse cycle air-conditioning
Generous personal storage spaces
Flat screen TV
Single beds
Integrated nurse call and entertainment handsets
Additional extra service inclusions:
Large private suites
Ensuite bathrooms
Large flat screen TV and Foxtel channels
Telephone and Internet
King single beds
Personal desk, TV display unit and bar fridge
Ample comfort seating for friends and family interaction
The facility's built form sits strategically around a series of bright courtyards and living spaces, designed to draw in natural light and airflow, and accentuate the presence of its leafy, sun-dappled surrounds. Landscaping has been extended right to the site's perimeter, with trees strategically placed to maintain natural light while maintaining privacy.
Features include:
Eco-friendly design to minimise energy and water usage, as well as chemical waste
Hair and beauty salon
Theatre, concert and activities space
Multiple lounge and seating areas
Onsite alfresco café
Winter gardens, outdoor terraces, a formal ceremonial courtyard, a fountain, raised herb and vegetable planters and extensive garden spaces
"I had the pleasure of dealing with Prestons Lodge recently. We were lucky enough to get my Dad into such a beautiful centre – the staff, the amenities and the love in that place is amazing. The staff and facilities at Prestons Lodge is second to none and I will be forever grateful for the way the team cared for my Dad. The staff aren't just doing a job – they actually really care and nothing was ever too much trouble."
– Leanne
"If you are looking for a modern aged care facility that genuinely cares about their residents, do yourself a favour and go and have a look at Prestons Lodge.
I have seen many aged care facilities in the 15 years we have specialised in providing aged care options and advice, and it is rare to see such a magnificent facility, especially in the western suburbs which, in my opinion, is quite affordable."
– Eric Hiam – Principal and Founder, Balanced Aged Care Specialists
When told that I would soon be in a wheel chair due to my condition I knew that I had to make changes in my life.
I was told I would be entitled to homecare, but how would I be able to vacate the building in the event of a fire if I couldn't use the lift? And I really didn't want to allow entry to my unit, nor the building, to a complete stranger.
I began looking for accommodation that would meet my requirements, and Prestons Lodge offered all the things that were important to me.
It can be quite daunting, divesting oneself of all one's possessions to move into Aged Care, but my transition was very smooth, largely due to the professional standard demanded of all those employed at the Lodge.
I've been here for two years now, and the wheelchair is nowhere to be seen because of the total commitment to the residents' physical well-being, exercise classes, walking groups, mini gym, physio, nutritional meals, varied activities to stimulate the mind, and entertainment for pure enjoyment!
I cannot speak too highly of Prestons Lodge, and I have no hesitation in recommending this facility to anyone needing care.-
– Christine 
The cost of accommodation.We offer a number of room and pricing choices for our residents:
| | |
| --- | --- |
| Classic (Shared): | Maximum RAD – $375,000 |
| Classic: | Maximum RAD – $395,000 |
| Premium: | Maximum RAD – $445,000 |
| Deluxe: | Maximum RAD – $575,000 |
| Superior: | Maximum RAD – $625,000 |
Accommodation may be paid as a RAD (Refundable Accommodation Deposit) or a DAP (Daily Accommodation Payment) or a combination of both. For more information about options by paying a DAP, click HERE.
In addition to the cost for accommodation, you will be required to pay a Basic Daily Care Fee, Extra Service Fee and/or a Means Tested Fee (depending on your personal circumstances). To obtain specific details of what you may pay depending on your specific circumstances, please Contact Us now to make an appointment.